The Friday 56 (With Book Beginnings): Trapped (The Iron Druid Chronicles #5) by Kevin Hearne + 50/50 Friday
On Friday's I take part in three weekly link ups - The Friday 56, hosted by Freda's Voice, Book Beginnings, hosted by Rose City Reader, and 50/50 Friday is a new weekly link up and it is hosted by Carrie @ The Butterfly Reader and Laura @ Blue Eye Books. For The Friday 56, you choose a book, a book you have just finished, a book you are about to start, your current read, and share a line or a few lines that grab you (but don't spoil anything) from page 56 or 56% of the way through the ebook. Post it and share your post's url on Freda's most recent Friday 56 post. As for Book Beginnings, you share the first sentence or so and your initial thoughts, impressions, or whatever else it inspires, and then link up your post's url with Rose City Reader. Then, for 50/50 Friday, every week there's a new topic featuring two sides of the same coin - you share a book that suits each category and link up on the hosts blogs.
This week I'm spotlighting one of my current #BeatTheBacklist reads, Trapped (The Iron Druid Chronicles #5) by Kevin Hearne. I absolutely love this series and it's awesome to catch up with Atticus, Granuaile, and Oberon. I've listened to the first three novels and one novella on audiobook (narrated by the amazing Luke Daniels), and I read book four in paperback. Well, I'm reading the paperback copy here, but I can totally still here Daniels' voice in my head. If you love urban fantasy and are into mythology, you need to try this series if you haven't already, especially if you like The Dresden Files by Jim Butcher.
Beginning:
You know those spastic full-body twitches you get when you're almost asleep and your muscles want to play a practical joke on your brain? You startle wide awake and immediately get pissed at your nervous system, wondering what the hell that was all about.
56:
"Have you ever been to an IHOP on a weekday morning, when everyone else is at work?"
"No," Granuaile admitted.
"Well, that's where all the senior citizens go. Or they go to a Village Inn or a Denny's or whatever. It's because, once you hit sixty or thereabouts, you don't ever want to make your own pancakes again."
"You're over sixty," Granuaile pointed out.
"And I never make pancakes. I go to IHOP with all the other old people."
50/50 Friday: Favorite/ Least Favorite Ships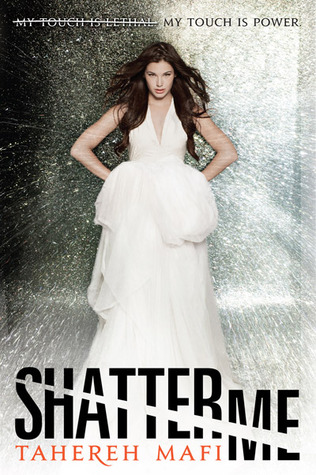 Least - Juliette and Warner from
Shatter Me by Tahereh Mafi
- Of course, I've only read book one, but I just don't get this one - I feel like I really missed something.
Favorite - I normally don't get into this, but as of now I have a grand total of four that I'm fairly invested in:
Alec and Magnus from
The Shadowhunter Chronicles by Cassandra Clare
- These two are actually my favorite couple from the
Shadowhunters
books, and I like where they're going in the tv series.
Cress and Thorne from
The Lunar Chronicles by Marissa Meyer
- As much as I like Kai and Cinder, Cress and Thorne are just so much fun!
Kell and Lila from
Shades of Magic by V.E. Schwab
- These two are great by themselves, but they're even better together!
Ronan and Adam from
The Raven Cycle by Maggie Stiefvater
- Gansey and Blue are great, but these two steal the show.
Have you read any of these books? What's your favorite ship? As always, thanks for visiting my blog and perhaps even commenting down below!