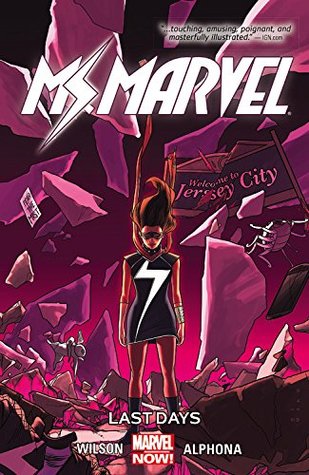 ❋
❋
❋
❋
❋
Kamala has faced many challenges since she put on her costume, but nothing has prepared her for the end of the world. It's a good thing she has her personal hero, Captain Marvel, by her side to help her rescue her brother and save her city from falling into chaos.
I've really enjoyed reading reading about Kamala's adventures as Ms. Marvel. She's easily one of my favorite "new" superheroes on the block. This comic book series continues to impress me in every way. The parts with her best friend, Bruno, are easily my favorites. As much as I enjoyed seeing the Spider-man team-up, I think it was the weakest entries in this volume, especially coming right on the tail of the previous issue. Overall, though, I can't get enough of Kamala's place in the Marvel Universe and I can't wait to see more of her. If you haven't been introduced to the new Ms. Marvel, what are you waiting for?
I read this graphic novel on December 18, 2015 and my review is also on
Goodreads
.