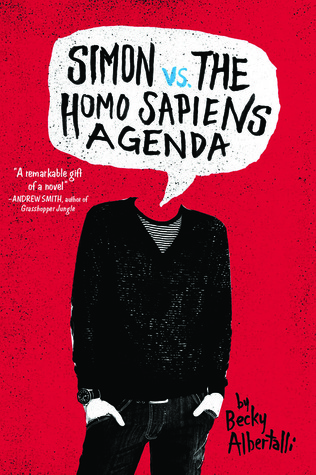 ❋
❋
❋
❋
❋
Simon Spier, a not-so-openly gay sixteen year old, prefers to save his drama for drama club rehearsals, but everything changes when one an email falls into the wrong hands. A classmate more or less begins to blackmail Simon in exchange for hooking him up with one of his female friends. Simon only goes with it because he doesn't want to risk being put into the spotlight, alienate his friends, compromise himself, and screw up his chance at happiness with the best guy he's ever known.
I don't read much Contemporary, but after hearing all of the hype surrounding
Simon vs. the Homo Sapiens Agenda
by Becky Albertalli I knew I had to give it a shot. I listened to the audio production narrated by Michael Crouch, and I have to say that it was one of my favorite reads of 2015. This is an absolute must-read, even for those who don't normally gravitate toward the genre. My favorite part about this novel is the characters. Each character is so well-developed that I expect I could bump into them on the street. Although each character is fantastic in their own right, Simon totally steals the show. His narrative strikes the right balance between realism and whimsy. Of all of them, he's the one I want to be friends with and have on my side. I honestly felt for him and the situation that he's been forced into by a classmate.
If you enjoy Rainbow Rowell and David Levithan, you will enjoy Becky Albertalli's beautifully effortless debut novel. I'm looking forward to anything and everything Albertalli writes in the future - hopefully, that will include more from Simon's world.
I listened to this audiobook from December 19 - 24, 2015 and my review is also on
Goodreads
.