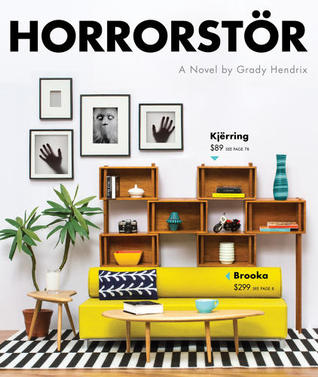 ❋
❋
❋
❋
❋
Three Orsk furniture superstore employees, Basil, Amy, and Ruth-Anne, agree to work a dusk til dawn shift in order to catch the perpetrator of the strange occurrences that have been happening at their store and ruining stock and vandalizing property. During their all-nighter, they'll encounter horrors they never would have expected.
Horrorstör
by Grady Hendrix is a fantastic horror comedy novel which is designed to resemble an IKEA catalog. It's a little slow to start, but I thoroughly enjoyed this story. Now, aside from being a librarian, I also work in a retail environment and you can see some really crazy things on a regular basis. Plus, you meet all sorts of people that otherwise you would probably never meet. That being said I could relate to this IKEA knock-off superstore's employees. Seriously, the cast of characters seem very real - I know people that are quite similar to those taking center stage here. Hendrix succeeds at creepy, and sometimes gory, horror as he is at creating characters and comedy. I don't want to spoil too much of it, but have you ever visited the
"Squirrel Cage" Jail Museum
in Council Bluffs, Iowa? In other words, it's really creepy, especially considering the huge empty store setting.
Overall, I highly recommend
Horrorstör
by Grady Hendrix, especially if you enjoy horror with a side of humor. If you're a fan of
American Horror Story
, I expect you'll love this novel. I'm really looking forward to his newest novel,
My Best Friend's Exorcism
, and I'm interested in seeing what becomes of the forth-coming
Horrorstör
tv adaptation.
I read this novel from May 17 - 24, 2016 and my review is also on
Goodreads
.