Happy Tuesday everyone and welcome back to Top Ten Tuesday, a weekly meme hosted by
The Broke and the Bookish
! This week's topic is Reasons I Love X - X can be anything from author, series, book, movie, tv show, genre, hobby, reading, to whatever you feel like talking about. This week I'm going to talk about one of my favorite shows that I feel like I don't talk about enough,
Merlin
.
1. Strong Cast
- Featuring Colin Morgan as Merlin, Bradley James as Arthur Pendragon, Anthony Stewart Head as Uther Pendragon, Angel Coulby as Guinevere, Katie McGrath as Morgana, and Richard Wilson as Gaius, plus there are some really great guest stars.
2. Fantastic Modern Retelling of Classic Arthurian Legend
- I loved seeing it all come together from Merlin the great wizard, King Arthur, the Knights and the Round Table, Mordred, Morgana (Morgan Le Fay), Excalibur, etc.
3. Magic
- Obviously, I have to include this!
4. Dragons
- You can't go wrong with dragons and this particular one is voiced by John Hurt.
5. The Relationships
- And, not all of these are romantic. The friendship between Arthur and Merlin and the father-son relationship between Gaius and Merlin are excellently developed.
6. Sword Fights
- Epic action sequences are always a plus - sometimes they're even in slow motion!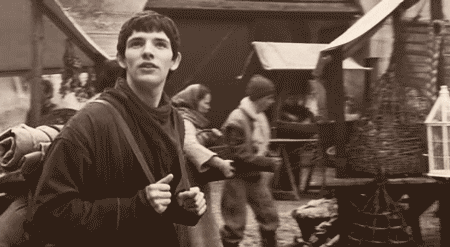 7. Family Friendly Adventure Series To Dark Drama
- You can really see the progression from beginning in the first season to the end of the last season, and it does both very well.
8. The Knights
- What would the series be without these guys? Personal favorites are Leon, Percival, and Gwaine!
9. Girl Power
- Gwen and Morgana certainly have their moments to shine! You can't forget Isolde and Morgause either.
10. It's Funny
- There are some real laugh out loud moments over the course of the five seasons, ranging from banter, insults, snark and sass.
So, have you ever watched
Merlin
, and did you find it as enjoyable as me? I say it's high time I rewatch the entire series! What tv shows, movies, or books do you love?