Happy Thursday everyone and welcome to my stop on the
Song of Blood & Song
Blog Tour from
St. Martin's Press
. Read on to learn more about this book, the author, check out my review, and read early praise for the novel! On to the tour: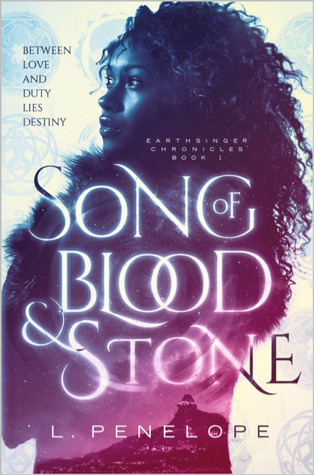 SONG OF BLOOD & STONE
Earthsinger Chronicles, Book One
By L. Penelope Published by St. Martin's Press
Release Date: May 1, 2018
A treacherous, thrilling, epic fantasy about an outcast drawn into a war between two powerful rulers.

Orphaned and alone, Jasminda lives in a land where cold whispers of invasion and war linger on the wind. Jasminda herself is an outcast in her homeland of Elsira, where her gift of Earthsong is feared. When ruthless soldiers seek refuge in her isolated cabin, they bring with them a captive--an injured spy who threatens to steal her heart.
Jack's mission behind enemy lines to prove that the Mantle between Elsira and Lagamiri is about to fall nearly cost him his life, but he is saved by the healing Song of a mysterious young woman. Now he must do whatever it takes to save Elsira and it's people from the True Father and he needs Jasminda's Earthsong to do it. They escape their ruthless captors and together they embark on a perilous journey to save Elsira and to uncover the secrets of The Queen Who Sleeps.
Thrust into a hostile society, Jasminda and Jack must rely on one another even as secrets jeopardize their bond. As an ancient evil gains power, Jasminda races to unlock a mystery that promises salvation.
The fates of two nations hang in the balance as Jasminda and Jack must choose between love and duty to fulfill their destinies and end the war.
Early Praise:
"This debut, which won the Black Caucus of the American Library Association Self-Publishing Award, shines a bright light into epic fantasy. Battle-scarred lands and peoples, ancient powers at war, star-crossed loves and hints of racial and refugee themes gives this a solid place on library shelves."
—Library Journal, STARRED review
"Penelope parallels our own world, exploring a refugee crisis and race relations with emotion and nuance...Fresh, suspenseful, and perceptive, Penelope's first in a new series will appeal to historical-fantasy readers, especially fans of N. K. Jemisin's
The Hundred Thousand Kingdoms
."
—Booklist
"Penelope delivers an engrossing story with delightful characters in this fantastic opening to a promising series."
—Publishers Weekly, STARRED review
"Wonderful characters, unique setting, and an engaging romance set against the backdrop of ancient magic. I can't wait to see what L. Penelope will do next."
—Ilona Andrews, #1 New York Times bestselling author
"Prepare to be hooked. SONG OF BLOOD & STONE is brimming with captivating lore, unique magic, and plot-turns you never saw coming. L. Penelope has written your next fantasy obsession."
—Elise Kova, USA Today bestselling author of
The Loom Saga
"SONG OF BLOOD & STONE is a thrilling and complex journey through a beautifully rendered world that is imaginative, magical, and eerily similar to our own. A terrific read!"
—Daniel Jose Older, New York Times bestselling author
My Review:
❋
❋
❋
I received an ARC from NetGalley in exchange for an honest review.
Song of Blood & Stone
by L. Penelope is an older YA/ NA fantasy romance novel with an excellent introduction that really made me want to dive into to the story. My favorite aspects of this new story are the world-building and our main character, Jasminda. In regards to the world-building that we get to see of warring nations Elsira and Lagrimar are intriguing when it comes to the big picture, such as the physical and magical differences between the Lagrimari and the Elsirans, how Elsiran society treats those it views as other like our main character Jasminda who is both part Elsiran and Lagrimari (she strongly favors her Lagrimari side, Earthsong magic included). Broadly, the author's world building is quite good, but when it comes down to the details I wish we could have seen a little more. Primarily, I felt a bit out of the loop on what exactly Earthsong magic entails and how it works. We get to see it in action a few times, but there are still so many questions I had about the magic system overall. Due to the mentalities and some details I also expected more of a historical setting, but peppered throughout we see things like vehicles, airplanes, tanks, modern military weaponry. If done more consistently this could have been a great setting feature, but as it is this mash up of historical and modern is quite jarring. Though I do have to mention that I loved the opening of each chapter with a bit of folklore from their world, that was a nice touch as it helps set the stage.
In regards to our main character, Jasminda is a very strong and courageous young woman who is willing to take things into her own hands to get things done. Her character also gives us a look into her experiences as biracial in tough circumstances. I could greatly appreciate watching Jasminda grow over the course of the story. Jack, her love interest, on the other hand, I wasn't all that interested in him even though he does get a few great twists, especially when it comes to his identity - and, of course, what that means for Jasminda. What surprised me the most about him has to do with his name. Of course, this is a fantasy story and everyone has interesting names except him. I mean, his full name is more interesting, but he really only goes by his nickname Jack. I don't know about you, but it actually bothered me that he goes by such a boring name. It's not nearly as cool as Jasminda's, that's for sure. Finally, I have got to mention their romance. Sure Jasminda and Jack go through a lot together, but I'd still classify it as instalove. In the long run, though, that didn't bother me as much as how graphic their love scenes become. The story is marketed as Young Adult, but when it comes to the romance it's definitely New Adult. I was not expecting that level of steaminess. The lead up is very YA in tone which was fine, but then the story takes on a level of steaminess that I associate with NA, or maybe even adult romance. Honestly, that's not really my thing and I could have done without about 10% of the story as the romance began to monopolize everything else.
Overall,
Song of Blood and Stone
by L. Penelope shows a lot of potential as an older YA/ NA fantasy romance. It has several elements I enjoyed - I liked what world-building we got to see and I enjoyed getting to know our leading lady. However, there's so much more I'd like to know about the world of the Elsirans and Lagrimari. If you're a fan of a major portion romance with your on the side fantasy, you may enjoy the love story a little more than I did (for me, it was just a little too overpowering). While reading this novel, I totally had
Saga
by Brian K. Vaughan and Fiona Staples in the back of my mind, so if you enjoy that graphic novel series you may want to try this series opener.
Thanks for this opportunity, NetGalley!
About the Author:
Leslye Penelope has been writing since she could hold a pen and loves getting lost in the worlds in her head. She is an award-winning author of new adult, fantasy, and paranormal romance. She lives in Maryland with her husband and their furry dependents: an eighty-pound lap dog and an aspiring feral cat.