The Friday 56 (With Book Beginnings): Hunting Prince Dracula (Stalking Jack the Ripper #2) by Kerri Maniscalco + 50/50 Friday
On Friday's I take part in three weekly link ups - The Friday 56, hosted by Freda's Voice, Book Beginnings, hosted by Rose City Reader, and 50/50 Friday is a new weekly link up and it is hosted by Carrie @ The Butterfly Reader and Laura @ Blue Eye Books. For The Friday 56, you choose a book, a book you have just finished, a book you are about to start, your current read, and share a line or a few lines that grab you (but don't spoil anything) from page 56 or 56% of the way through the ebook. Post it and share your post's url on Freda's most recent Friday 56 post. As for Book Beginnings, you share the first sentence or so and your initial thoughts, impressions, or whatever else it inspires, and then link up your post's url with Rose City Reader. Then, for 50/50 Friday, every week there's a new topic featuring two sides of the same coin - you share a book that suits each category and link up on the hosts blogs.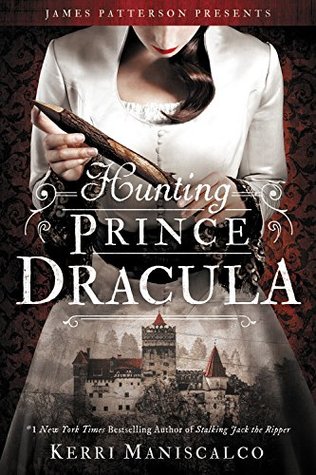 This week I'm spotlighting one of my

current #BeatTheBacklist reads, Hunting Prince Dracula (Stalking Jack the Ripper #2) by Kerri Maniscalco.
I absolutely loved
book one
and
I'm so excited to be back with Audrey Rose and Thomas Cresswell!
Beginning:
ORIENT EXPRESS
KINGDOM OF ROMANIA
1 DECEMBER 1888
Our train gnashed its way along frozen tracks toward the white-capped fangs of the Carpathian Mountains. From our position outside Bucharest, the capital of Romania, the peaks were the color of fading bruises.
56:
"Please don't bother calling me 'miss.' 'Audrey Rose' or just plain 'Audrey' is perfectly fine."
50/50 Friday: First/ Last Book Read In 2017
First -
Fun With Your New Head by Thomas M. Disch
- This collection of short stories from the 1960s was oddly unexpected and interesting.
Last -
Before the Devil Breaks You (The Diviners #3) by Libba Bray
- This series is just fantastic and I can't wait until book four will be released.