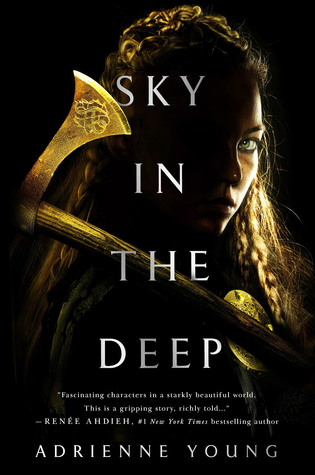 ❋
❋
❋
❋
❋
I received an ARC from NetGalley in exchange for an honest review.
Eelyn is a warrior alongside her fellow Aska clansmen in an ancient rivalry against the Riki clan. Life is brutally simple: fight and survive until the next battle. Then Eelyn sees something impossible - her brother alive and fighting on the side of the enemy, the same brother she watched die five years before. Faced with his betrayal, Eelyn has no choice but to outlast the winter in the mountains with the Riki. She is surrounded by the mortal enemy of her people, where every scar could be one she delivered in the heat of battle. Then, the Riki village is raided by another ruthless clan thought to be legend, Eelyn is more desperate than ever to get back to her family. Now she has no choice but to trust her brother's new Riki friend, Fiske, who sees her as a threat. The three will have to do the impossible and unite the Aska and Riki clans if they all want to survive this new danger.
Wow!
Sky in the Deep
by Adrienne Young was exactly what I needed! It's one of the most hyped up books out there right now and it totally delivers. As soon as I heard YA fantasy with Vikings, I was in. Looking back on it, though, this new release definitely outclassed my expectations. The best part is that this is Adrienne Young's debut - how impressive is that - I mean, after that I'm dying to know what she's going to do next. Thank you so much to NetGalley for granting my review request!
Like I said, this story is features Vikings and there are a ton of well-executed fight scenes with a real take no prisoners kind of heroine. It's incredibly action-packed and it's also perfectly paced for that as well as some of the calmer moments. I never felt like the story was moving too fast or dragging. The author does a fantastic job of introducing us to the world of the Aska and the Riki. Although the world-building is a little more limited and narrow than what I prefer, it doesn't hinder the story as it's very tightly defined, controlled, and clearly set up from the beginning.
As fantastic as all of these elements are, though, the cast of characters is what really sets this story off. I was pleasantly surprised to see just how character-driven such an action-packed novel turned out to be. Eelyn has easily become one of my new favorite YA characters and I honestly wouldn't say no to seeing more like her in the future. I love her conviction, honor, loyalty, strength of body and mind, and the realistic relationships she builds with her family and friends. She also has a brilliantly done character arc and we get to see her grow and change on the page - we get to see her at the top of her game, vulnerable, doing what was thought to be impossible, and more. There's also a bit of hate-to-love romance between Eelyn and Fiske and I found myself rather enjoying that much more than I expected to as well. I don't know about you, but aside from Lagertha in
Vikings
, Okoye from
Black Panther
came to mind when considering Eelyn's character and values.
Overall,
Sky in the Deep
by Adrienne Young is an amazing YA debut that easily lives up to the hype. It's a brilliant standalone fantasy, but I can honestly say I wish I could be spending more time with Eelyn in the future. I can't recommend this story highly enough. There's so much to love about this incredible new release, but you shouldn't just take my world for it. I will definitely be keeping my eyes on Adrienne Young's upcoming projects.
Thanks again, NetGalley!
I read this ARC on April 19, 2018 and my review is also on
Goodreads
.
Sky in the Deep by Adrienne Young
will be released on April 24th, 2018.