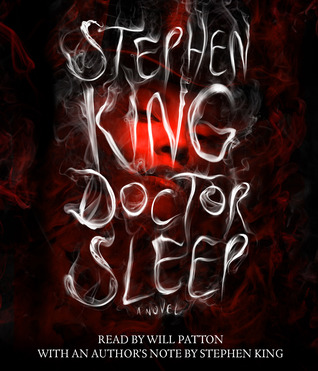 ❋
❋
❋
❋
❋
Dan Torrance has been drifting ever since he first set foot in The Overlook and he is desperately trying to get out from under his father's shadow. He manages to settle down in a New England town where he regularly attends AA meetings and takes a job at a nursing home. Although his "shining" abilities have waned over the years, he is able to comfort the dying with his power. Then, Dan meets meets Abra Stone, a girl with a stupendous amount of power, much more than what Dan had at his strongest. When the two get tangled up with The True Knot, a seemingly harmless looking group of "RV people," it becomes a fight not only for Abra's survival but for her soul. The members of The True Knot have become nearly immortal by living off the "steam" produced by those with the shining while they are slowly tortured to death, and the younger their victims the better.
The Shining
is one of my favorite novels by Stephen King, and like many I found myself wondering whatever happened to little Danny Torrance. When
Doctor Sleep
was first released, I realized I was hesitant about taking it on, but now looking back on it after I've finished it I'm really glad I did. Stephen King does a fantastic job of bringing us back into adult Danny's life. Although this is a sequel to
The Shining
, it's also a standalone novel. You don't have to have read
The Shining
, but you really should because it's just that good. And awesomely enough so is this excellent follow up! If you've only ever seen the movie, this sequel follows the book instead. As much as I love Kubrick's film adaptation, I definitely prefer the source material. Also
Doctor Sleep
is not quite straight out scary like it's predecessor so much as it is darkly creepy, but this tone works really well here.
Dan is an excellent character and it's great to see his progression from a barely functioning violent drunk to Doctor Sleep and Abra's friend. I really enjoyed reading Dan's character and I loved reading Abra even more so. Even though she has such power, she still feels very real which is great. In fact, all of the characters feel pretty three-dimensional which is always a plus, especially when it comes to the villainous True Knot. I love the fact that this installment is less claustrophobic. To say the least, the Dan's world is really opened up and we get a better look at his surroundings and the supernatural aspect of things.
I highly, highly recommend
Doctor Sleep
, especially the audiobook narrated by Will Patton. Patton does a marvelous job of bringing Dan and Abra's world to life. I'm sure I will be suspicious of those middle-aged and retired RV people the next time I go camping! Now if only Stephen King would write another story focusing on Tony...
I listened to this audiobook from September 26 - October 3, 2014 and my review is also available on
Goodreads
.