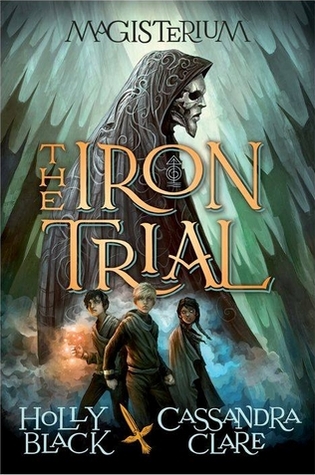 ❋
❋
I wanted to like
The Iron Trial
by Holly Black and Cassandra Clare so much. In the past I've enjoyed Black's work in
The Curse Workers
series and Clare's in both
The Mortal Instruments
and
The Infernal Devices
series. With their talents combined, I was hoping for a little more originality when it came to the first installment of this brand new middle-grade series. Unfortunately, there were way too many similarities to J.K. Rowling's brilliant
Harry Potter
series. It's one thing if it's alluded to in a subtle way as in an homage, or if it's given a refreshing new spin, but it's just so incredibly blatant here. The further I progressed in the story the more I realized I was just trying to count all of the references.
Callum Hunt (Harry) attempts to fail his entrance exam to the Magisterium (Hogwarts, if it were in the Luray Caverns of Luray, VA) since his dad has only told him bad things about the mage (wizard) school, but he winds up getting in and placed in the top class group. His team mates are Tamara (Hermione) and Aaron (Ron) and they spend a lot of time together and with their Master at lessons. There are no wands, but there are fire, water, earth, air, and chaos elementals and wrist bands. (Did I mention that there's even a boat ride to get to the main part of the school?) Callum also learns about The Enemy of Death, who is (Lord Voldemort, if he wore a Death Eater mask) a Makar - chaos magic specialist - who wants to conquer death. Mages have been fighting him since before Callum was born (Callum's mom died in the war, and baby Callum's leg got messed up), and the Masters at the Magisterium are hoping to find another Makar (a very rare type of mage specialization) to come along to help them defeat The Enemy of Death and his Chaos-ridden (Imperiused/ Inferi people or animals who are vicious and to some extent are controlled by the Enemy).
The above are some of the basic similarities, but there are lots more. You'll have to read it to spot them all for yourself. I actually called the big "twist" at the end, by thinking just how
Harry Potter
they could take it - I'll warn those of you want to know now
(view spoiler)
[Callum is essentially The Enemy of Death's Horcrux (hide spoiler)]
.
Also the design of the book also made me think of
Harry Potter
because when I look at the cover, I can't help but see a Death Eater and the Trio. Callum is the one on the left with the red magic around his out stretched hand (just give him green-eyes and some glasses and he's definitely Harry). Doesn't the symbol in the O of Iron remind you of the Deathly Hallows, too? There are also illustrations at the beginning of each chapter, and of course they are drawn in a style reminiscent of guess what.
Like I said before, if you have never read or watched the
Harry Potter
series, you may really like this book. Honestly, it's not bad, but it's simply too similar to one of my favorite stories for me to really get into without constantly thinking about all of the comparisons.
In my opinion, Holly Black and Cassandra Clare could have done much, much better. If you're interested in a really good story that draws a few parallels with
Harry Potter
, but is decidedly not
Potter
, you may want to check out
Half Bad
by Sally Green, or even the Simon Snow fanfiction of
Fangirl
by Rainbow Rowell.
Verdict:
I'm sorry, but I think I'll stick with
Harry Potter
. Thanks, but there are just too many blatant ties for
The Iron Trial
to really stand on it's own two feet.
To quote from
The Secret Life of Walter Mitty
(2013) starring Ben Stiller:
"You know who looks good in a beard? Dumbledore, not you." --Walter to Ted
I read this book from October 7 - 12, 2014 and my review is also on
Goodreads
.