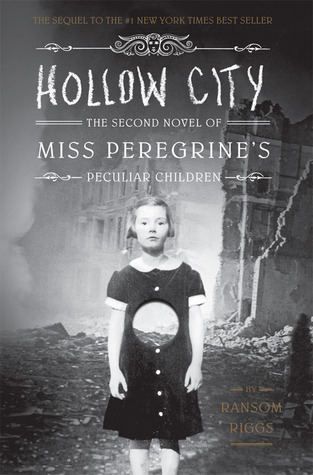 ❋
❋
❋
❋
❋
Hollow City
by Ransom Riggs is an excellent sequel to
Miss Peregrine's Home For Peculiar Children
and if you enjoyed the first book, you won't want to miss this!
This installment takes place immediately after the ending of the first. Jacob and his peculiar new friends have rescued Miss Peregrine from the wights and are on a mission to find Miss Wren, also an ymbryne, who may just be the only person able to help their guardian change back into human form. They come to learn from some peculiar animals that Miss P. only has a few more days before she will be stuck in bird form for good. The group will have to cover a lot of ground and time, for that matter, during one of the most dangerous war's in history with enemies around every corner if they want to have any chance of saving their beloved Miss Peregrine.
Of the two installments so far, I have enjoyed reading this one the most. Our core cast is well developed already, and we really get to know everyone pretty well here (Fiona is still a bit of a mystery) and learn more of their stories. Peculiardom, aka the peculiar world, is greatly expanded and that was a real treat to see, especially the multiple loops and new peculiar characters. Of the new characters, I really enjoyed meeting the girl on the cover and her younger sister. It's one of the more heartbreaking scenes in war-torn London, but one of the best. As before, the photos included are great and always interesting. I would love to know the real story behind them!
I highly recommend this fast-paced, addicting, and twisty thrill-ride of a sequel. You will definitely want to buckle your seatbelt for the last fifty pages! After that cliffhanger, I can't wait to see what happens in the third volume!
I read this book from September 18 - October 7, 2014 and my review can also be found on
Goodreads
.