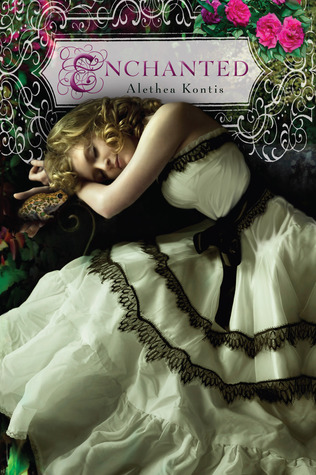 ❋
❋
❋
❋
I lucked out when I stumbled upon
Enchanted
by Alethea Kontis on audiobook at my local library!
Sunday Woodcutter is the youngest daughter in her family where all of the girls are named for the days of the week (you know the rhyme). Sunday is also the seventh daughter of a seventh daughter. One of the only things she enjoys is writing stories, but even there she has to be careful because what she writes often comes true. One day, Sunday becomes fast friends with a frog when he asks about her stories. When she kisses him goodbye and goes home, she doesn't realize that he transforms back into a human. He's actually Rumbold, Prince of Arilland, a man who is despised by Sunday and her family.
When Rumbold returns to the castle, he plans to make Sunday fall in love with the man he is now. How can she fall in love with a man she has hated ever since her brother died, a man she hardly knows and doesn't really want to know. What secrets lie in their pasts?
If you couldn't tell from this short little summary, this is a fairy tale retelling. And let's just say it incorporates a lot of fairy tales, like more than I can count on my fingers. However, the main two that it draws from are The Frog Prince and Cinderella (not the Disney version).
My only real issue with the story is keeping the characters separate and remembering who's who and who does what. A lot is covered in the story and at times I was a bit confused as to what was going on, especially when it came to Jack Jr.
Overall, the author is able to blend the tales in interesting ways that I wouldn't have initially expected, but somehow she manages to make it work here. The world building is well done and the characters are, for the most part, relatable. I could also see them grow over the course of the story, especially Rumbold. The narrator, Katherine Kellgren, does an excellent job of performing the story and making each voice unique.
If you enjoy watching
Once Upon A Time
and reading the
A Tale Dark & Grimm
series by Adam Gidwitz, you just may enjoy this dark and twisty story called
Enchanted
by Alethea Kontis. I'm looking forward to
Hero
, the second book in the
Woodcutter Sisters
series.
By the way, is it just me or did anyone else think of this guy every time the name Rumbold was mentioned?
I listened to this from October 19 - 22, 2014 and my review is also available on
Goodreads
.